Monthly Partnership Opportunities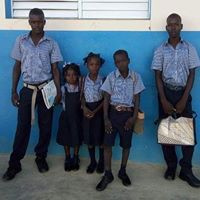 Monthly Sponsorships can help send a child to school and place them in our feeding program so they don't have to start the school day hungry. We all know that proper nutrition gives a child the foundation to learn and is one of the main building blocks to a healthy mind and body.

Some people prefer a monthly sponsorship instead of a yearly one. This gives you the flexibility to choose what is best for you.

Elementary + feeding program- $25 per month

Middle School + feeding program- $27 per month

High School + feeding program- $30 per month
Feeding Program ONLY- $11 per month

The Jean family that has volunteered to foster several children that are in desperate situations. These children either have no parents or the parents are unable to provide even their basic necessities. Currently we have 3 children sponsored, but the family can take in more children if we can find additional sponsors. If you have a heart to help a family provide a stable home with food to eat and adults to love and direct them and teach them about Jesus, please contact us! You can help in two ways, provide a child with food each month and/or provide a child with a school education.
$50 per month for food

$300 per year for school ($25 per month)

20 adults in the village of Savane Coq are learning skills they never had the opportunity as children to have, the gift of reading and writing. They have completed the first level in the literacy class and are now working on the second level. They are trying so hard and quickly accomplishing so much! They are such good examples to their children of what can be accomplished with hard work and dedication. I am so proud of them!
We would love to start another literacy class to provide more adults with the gift of reading & writing.

$60 per month will sponsor another class of 20 adults.